---
The Wee family tree
Wee Kheng Chiang
Wee Kheng Chiang (Son of Wee Tee Ya and Choo Kim Kiaw) and Ong Siew Eng
Father of Wee Siok Hua; Wee Hian Teck; Wee Bee Siok; Wee Hood Teck; Wee Cho Yaw; Bee Choo Wee and Bee Hua Wee.
Wee Wei Ling
Wei Ling is the executive director of Pan Pacific Hotels Group, Wee Wei Ling is the daughter of billionaire businessman Wee Cho Yaw. The group recently released Along the Journey, a corporate art collection she curated in support of local artists. Wee is also a co-founder of Extra Ordinary People, a charity supporting persons with special needs. (Source)
Shin Hui Tan
Shin Hui Tan (chinese: 陈心慧) is the daughter of Wee Wei Ling. She is the Executive Director of the Park Hotel Group (PHG). Shin Hui currently serves as the Co-Chair of the Hospitality Development Council under the Urban Land Institute (ULI) Asia-Pacific as well as a member of the Women's Leadership Initiative (WLI) of ULI Singapore.
Shin Hui Tan is married to Allen Law, a Hong Kong-born business magnate and chief executive officer (CEO) of the family-founded Park Hotel Group.
Alexandra Eu
His grandchild Alexandra Eu is married to a Kuok grandchild: Kuok Meng Wei.
"In her 5 years experience as a strategic planner in DDB and an Events & Marketing manager at UOB Private Banking, Alexandra has worked with corporate and retail clients to develop multimedia marketing and branding strategies. She also co-founded and ran Art Loft Asia, a leading art e-commerce platform focusing on Asian art." –hive-up
Alexandra studied Communications and Photography at Boston College
 from 2003–2007
Jonathan Eu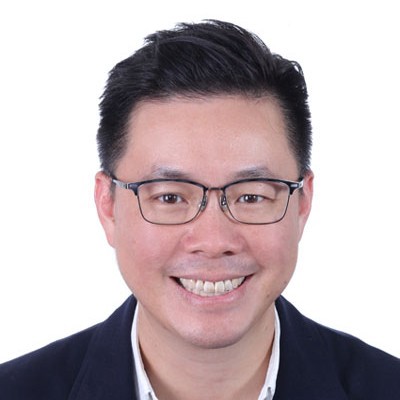 Jonathan Eu was the General Manager (Investment & Asset Management) at UOL Group Singapore from 2009 to 2020.
He is the Chief Operating Officer
 of UIC (United Industrial Corporation) since Jan 2020
He studied at Wharton School, University of Pennsylvania
Finance and OPIM (Bachelor)
from 2002–2006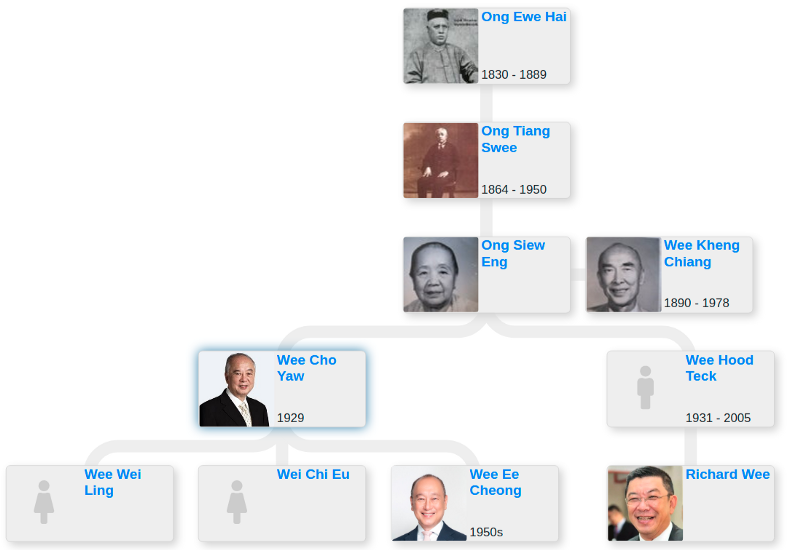 Wee Hood Teck
Wee was the founder and chairman of Eastern Oxygen Industries Sdn Bhd, and a younger brother of Singaporean banker Wee Cho Yaw.
The prominent businessman, who served for 12 years as president of the Kuching Chinese Chamber of Commerce and Industry until 1978, made significant financial contribution to Chinese education.
He was also a long-serving chairman of the Sarawak Turf Club.
Wee left behind widow Datin Amar Kathryn Phang-Wee Geok Lian, four sons and three daughters. His children were: Richard Wee Liang Huat, (wife Dona Amat Drury), and Anna Wee Chiaw Sek, treasurer of Sarawak Heritage Society.
He will be laid to rest at the Hokkien Cemetery in Jalan Giam, off Jalan Penrissen on Tuesday.
Wee Cho Bian
He has two children with Cheong Soh Chin:
Wee Boo Kuan (born 1966)
Wee Boo Tee (born 1968)
Wee Boo Kuan
Mr Wee Boo Kuan is a businessman with more
than 30 years of experience in the field of Health and Wellness. He has a strong interest and experience in ecological Lifestyles of Health and Sustainability initiatives (LOHAS). He was instrumental in establishing Singapore's first certified organic farms under Biological Farmers of Australia (BFA) in the late 1990s and was involved in the wholesale and retail of organic products (Brown Rice Paradise) in Singapore, Malaysia, Taiwan and Australia. He initiated the development of a range of Australian certified organic personal care line and obtained organic certification for a hotel in Western Australia.
In commemorating his father Wee Cho Bian's 25th year of passing, Mr Wee decided to co-found Extra•Ordinary People. In close collaboration with the business community and other charities, Extra•Ordinary People will focus on the special needs community in Singapore, contributing to a more inclusive and vibrant community. (Source)
Sources:
https://www.thestar.com.my/news/nation/2005/06/05/exbanker-dies-at-75
List of descendants:
1. WEE Tee Ya b. Kinmen County; d. 1889
└ +CHOO Kim Kiaw
2. Elder Brother WEE
2. WEE Kheng Chiang, 黄庆昌 b. July 22, 1890; d. 1978
└ +ONG Siew Eng, 王秀英
3. WEE Siok Hua
3. WEE Hian Teck
└ +Annie LYE
3. Wife 1: WEE Bee Siok d. May 15, 1985
└ +Ong Kee Hui 王其輝 b. August 19, 1914; d. April 19, 2000
4. Ong Liang Kui, Philip
└ +Patsy Lim
5. Patrice Ong
5. Patrina Ong
4. Ong Liang Hee, Albert
└ +Nora Chan
5. Andre Ong
5. Marina ONG
4. Nancy Ong
└ +George Teo
5. Gavin Teo
5. Glynis Nott
4. Rosalind Ong
└ +Aloysius Eng
5. Nicholas CHAN
5. Natalie CHAN
4. Doris Ong
└ +Kong Ai Ting
5. Keith Kong
4. Ong Chiaw Khim, Daisy
└ +Bret Hodkinson
5. Ian Hodkinson
3. Tyrone WEE Hood Teck d. June 3, 2005, Kuching,, Sarawak, Malaysia
└ +Kathryn PHANG Geok Lian; m. after July 1950
4. Richard WEE Liang Huat
4. Daughter WEE
└ +Ernest HO Keng Seng
4. Anna WEE
└ +-NG Hock Seng d. 2004, Singapore, Singapore; div.2000
3. Wee Cho Yaw 黃祖耀 b. 1928, Quemoy, Jinhu Township, Kinmen County, Taiwan
└ +Chuang Yong Eng
4. WEE Wei Ling
└ +Tan Deng Lang
5. Shin Hui Tan b. 1984
4. WEE Ee Cheong 黄一宗 b. 1953
5. WEE Teng Wen
4. WEE Ee Chao
4. WEE Ee Lim
4. Wei Chi Eu
└ +David Eu Yee Tat
5. Jonathan Eu
5. Alexandra Eu
3. Bee Choo Wee
3. Bee Hua Wee
2. Brother WEE
2. Sister WEE