CP Group is the largest conglomerate in Thailand with businesses in food, commodities, real estate and telecommunications. The company also has extensive operations in Asia. The four brothers of the Chearavanont family own equal shares:
Generation 0 (founders):
Chia Ek Chor (died 1983)
Generation 1:
Jaran Chiaravanont (c. 1929)
Montri Jiaravanont (c. 1930)
Sumet Jiaravanon (1934)
Dhanin Chearavanont (19 April 1939 — )
Wanlop Chearavanont (1941 — ) cousin of Dhanin
Kiat Chiaravanont, cousin of Dhanin
Phongthep Chiaravanont, cousin of Dhanin
Meth Jiaravanont ?
Manas Chiaravanond, cousin of Dhanin
Generation 2:
Chearavanont, Soopakij 謝吉人 (1963 — )
Chearavanont, Narong 謝銘鑫 (1965 — )
Chearavanont, Suphachai 謝鎔仁 (1967–03–24 — )
Tanit Kane
Tanit Kane or "TK" as he is more commonly known to his friends is the son Soopakij Chearavanont and grandson of the current Chairman of Charoen Pokphand Group. Tanit has taken some time off from Harvard University where he is a student and has begun work at Swiss investment bank UBS in their Hong Kong office as part of his training to one day take over the reins of the company back in Thailand.Known by his friends to party hard, TK can often be seen hitting up the clubs in HK and in Harvard. He is also reportedly a member of one of Harvard's highly elite secret societies. His family is very low profile and has very strong political clout in Thailand, HK and China. (Source)
Chatchaval Jiaravanon
Chatchaval is executive chairman of Finansia Syrus Securities and director of AEON Thana Sinsap and True Corporation subsidiaries, among others. He graduated from the University of Southern California is married to Kwanjai and they have a daughter, Chayuda, and a son, Chaval.
Meth Jiaravanont
Mr. Meth Jiaravanont, (born 8 Jun 1958) has been an Executive Director of the Company since 2005. He obtained a Bachelor of Arts degree in Economics from Occidental College, California, USA and a Master degree in Business Administration from New York University, USA. Mr. Jiaravanont has extensive
experience in investment, finance, banking and strategic business development in Asia and USA. He is currently the Executive Vice Chairman and Remuneration Committee member of C.P. Pokphand Co. Ltd., a company listed on the Main Board of SEHK, the Senior Executive Assistant to the Chairman-Finance of Charoen Pokphand Group Company Limited and a director of CPPC Public Company Limited. Meth Jiaravanont owns 12705 Bluff Creek Dr Apt 5, Playa Vista, CA, 90094. His previous addresses were Fredrick Ave, Atherton, CA, 94027, 12705 Bluff Creek Dr, Playa Vista, CA, 90094, and 1208 Manhattan Ave, Manhattan Beach, CA, 90266. (S)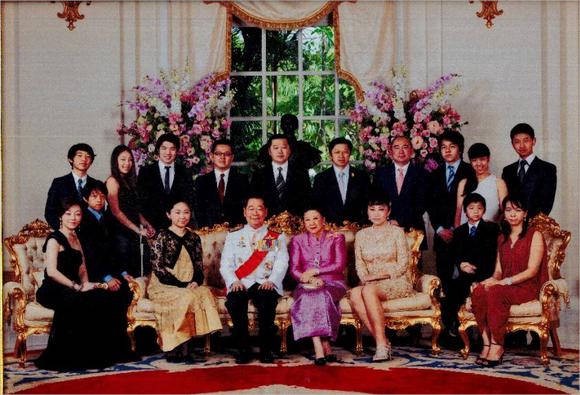 Charoen Pokphand Group Company Limited ("CPG") which operates businesses in investment, chemical products import and distribution, and providing technical services, where the Chearavanont Family is a major shareholder (The first ten shareholders are Mr. Sumet Jiaravanon 12.96%, Mr. Dhanin Chearavanont 12.96%, Mr. Jaran Chiaravanont 12.75%, Mr. Montri Jiaravanont 12.63%, Mr. Kiat Chiaravanont 5.76%, and Mr. Phongthep Chiaravanont 3.65% with the following shareholders each holding 3.62%: Mrs. Yupa Chearavanont, Mr. Prathip Chiaravanond, Mrs. Phatanee Leksrisompong, Mr. Watcharachai Chiaravanond, Mr. Manu Chiaravanond and Mr. Manas Chiaravanond), held 27.95% of TRUE's shares. (Source, 2015)
Family tree of the four brothers:
Family tree of Chia Siew Whooy
Family tree