Kuok Keng Kang ( 1893 Fuzhou — 1948). His sons:
Phillip Kuok Hock Khee (18 May 1921–16 Dec 2003) Malaysian Ambassador to Germany, Yugoslavia, Netherlands, Belgium, Luxembourg and Denmark
William Kuok Hock Ling (Jul 1922 – 1952)
Robert Kuok (6 Oct 1923 Johor Bahru)
Robert Kuok
Robert Kuok Hock Nien, is a Malaysian business magnate and investor of Chinese descent. His father Kuok Keng Kang came from Fuzhou to Malaysia as a teenager.
Here's a bigger tree including his grand-nephew Kuok Khoon Hong.
Robert Kuok's children from his first marriage: Ruth, Beau, Sue, Jill and Ean.
Ruth Kuok
Ruth married Paul Leese, and is the mother of Samantha Kuok Leese (journalist) and Alexandra Kuok Leese (photographer).
Ms. Ruth Kuok manages the Joyce M Kuok Foundation named after her late ​mother. The foundation made its first donation to CUHK (The Chinese University of Hong Kong) in 1987 to establish the Joyce M Kuok Foundation Scholarships.
Jill Kuok Friedman
Married to Sanford Friedman. Two children: Lea Woods Almanza, who lives in Hawaii and has two kids, and John, who lives in Singapore and has three sons and one daughter. John worked for Deutsche Bank for 7 years and then Morgan Stanley and now for Agfunder.com. Both childen attended Punahou school which is where Obama and Sun Yat Sen went to school. They both graduated from Cornell University. (Source, John)
Kuok Khoon Hua
Kouk Khoon Hua graduated from Harvard University in 2003. He the chairman of Kerry Holdings Ltd, a privately held subsidiary of Kuok Group Ltd, as well as serving as a director of Kerry Group and Kuok (Singapore) Ltd.
In addition to his positions with the family-controlled holding companies, Kuok Khoon Hua is an executive director of Hong Kong-listed Kerry Logistics Network Limited, and is slated to become chairman of the delivery firm at the time of its annual general meeting on 31 May.
He is also a non-independent, non-executive director of Singapore-listed agribusiness conglomerate Wilmar International Limited and an independent director of NYSE-listed shipping firm Sea Limited. (source)
Kuok Hui Kwong
Married name: Hui Kuok-Gaw. She is married to Bryan Pallop Gaw (吳繼霖) and they have two sons, Bryan is director of Kerry developments. Gaw has previous experience in private equity, management consulting, strategic planning and business development. He holds a Bachelor of Arts in Political Science from Princeton University and a Master of Business Administration from Stanford's Graduate School of Business. Mr Gaw is the brother-in-law of Mr Kuok Khoon Hua, the Vice Chairman and Chief Executive Officer of the Company.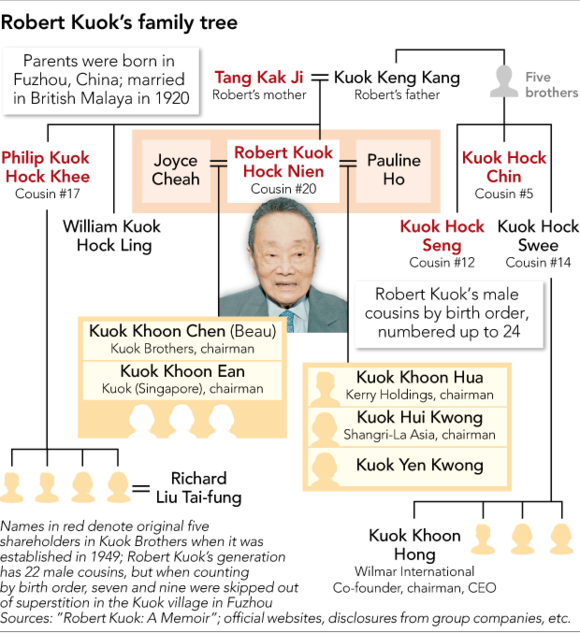 Richard Liu Tai-fung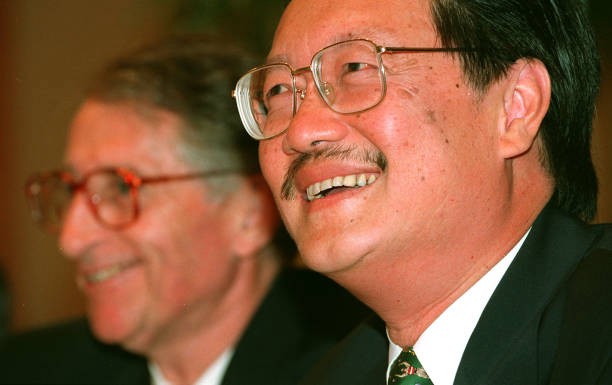 Richard Liu Tai-fung (wikidata), relation unknown.
Ean Kuok
Ean Kuok married Chen Sui Kuok, they have 3 children: Meng Xiong Kuok, Meng Wei Kuok and Meng Jun Kuok
---
Kuok Khoon Hong
Kuok Khoon Hong is a Singaporean business magnate, entrepreneur and philanthropist. He is the co-founder, Chairman and CEO of Wilmar International, having built it into one of Asia's leading agribusiness groups, and the world's largest palm oil trader. He is also the Chairman of Perennial Real Estate Holdings Ltd. He has an estimated net worth of US$3.7 billion as of Jan 2021. (Wikipedia)
Children:
Meng Ru Kuok
Meng Ru Kuok is CEO of BandLab Technologies, a collective of global music brands headquartered in Singapore, which he founded in 2016. The BandLab Technologies portfolio includes digital, media, manufacturing and retail businesses focused on innovating for music creators and fans, with the aim of creating a connected world of music.
Meng is also the Managing Director of Swee Lee Music, music instrument and accessory retailer, which he has been leading since 2012, when he acquired the legacy music retailer and subsequently transformed it into one of the one of the largest musical instrument retail, distribution and e-commerce businesses across Southeast Asia. (source)
Meng Han Kuok
Meng Han Kuok is the founder and managing director of the privately company Camtech Diagnostics, a biotech startup established in 2011 that develops products for the biodefence, food and healthcare industries. Its rapid antibody test kits are said to detect past or present coronavirus strains that exist in an individual's bloodstream. (Source) He first studied at Winchester College, and then completed his further studies at the University of Cambridge (PhD in Biotechnology). (LinkedIn)
Members in Standard Chinese