Lee Byung-chul's family tree
---
Lee Byung-chul's family tree
1st generation
Lee Byung-chul born to a wealthy family, started his business exporting various goods and food in Daegu, Korea. He named the company Samsung Trading Co. During the Korean War in 1950, he saw a massive rise in his trucking business and shortly expanded into textile the industry and opened the largest wooden mill in South Korea. In 1960s he ventured into electronics and focused on creating and innovating products. After he passed away Samsung Group was divided into 4 groups, Shinsegae Group, Samsung Group, CJ Group and Hansol Group.
2nd generation
Lee Kun-hee was the chairman of Samsung Group from 1987 to 2008 and 2010 to 2020. He is credited to shift the businesses perspective from producing low quality items to garner bigger sales and instead produce high quality products even if it meant less sales. He was responsible for Samsung's transformation and turning it into the world's biggest maker of smartphones, televisions, and memory chips.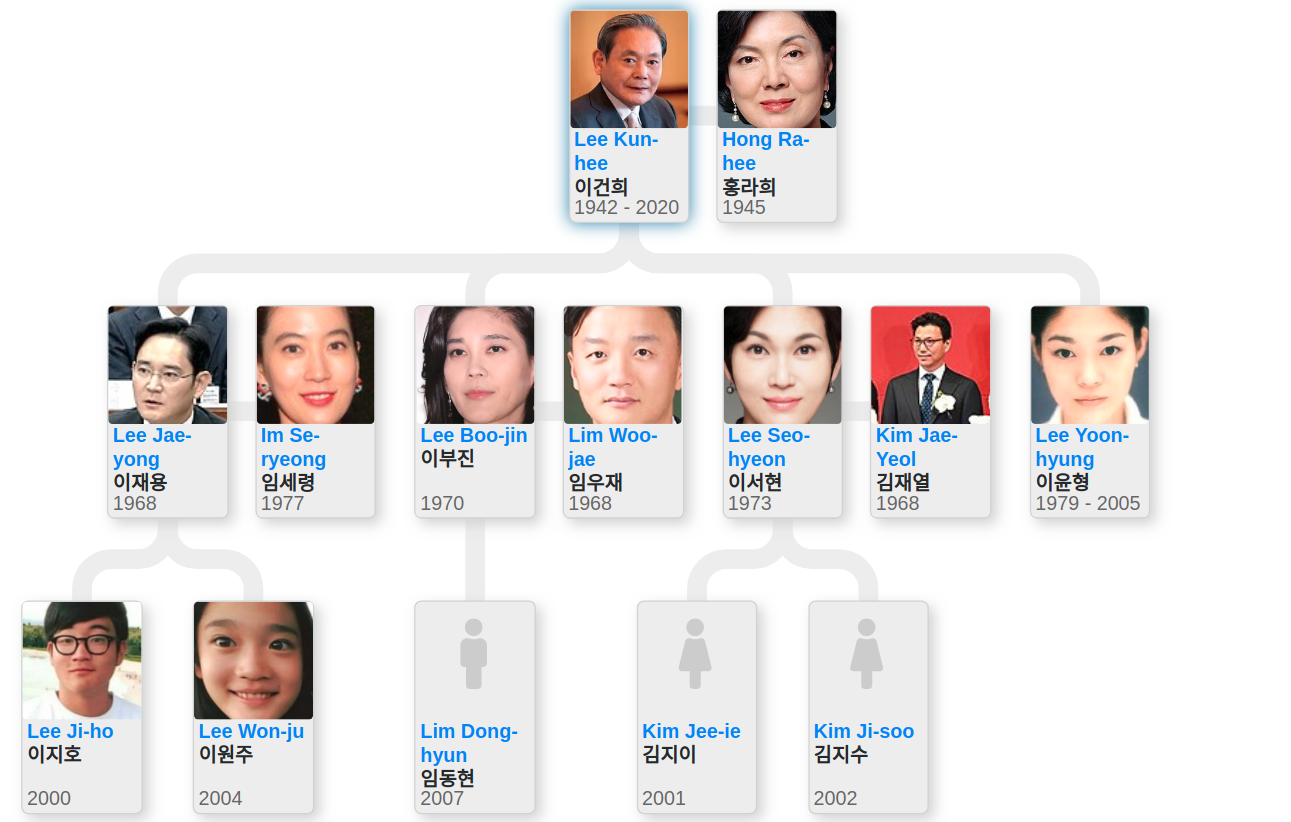 Lee Myung-Hee, the chairwomen of Shinsegae Group and was responsible for its growth and becoming the 2nd largest retailer in South Korea. She strategically chose to make E-mart go public in 2011 which enabled the store to grow and become the biggest discount retail chain.
Lee-In-hee was the advisor for Hansol Group and co-founded the Dooeul Scholarship Foundation that assists skillful Korean women.
3rd generation
Miky Lee, is an executive producer in the Oscar winning film, Parasite. In 2006 she won the World Business Award at the Women's World Awards and in 2007, was given the accolade CEO of the Year by the Korean Management Association.
Lee Jay-Hyeon is the chairman of CJ Group which officially separated from Samsung in 1997. During his tenure, CJ Group has transitioned from a food company to a global lifestyle company.
Lee Jae-yong, referred as the 'Crown Prince of Samsung' and is the fourth wealthiest person in Korea. But he was indicted in September 2020 for accounting fraud and stock price manipulation. He has already served 2.5 years in prison for bribing the former South Korean president.
Lee Boo-Jin became the CEO of Hotel Shilla in 2010, an affiliate of Samsung Group. It is a luxury hotel for lodging and conferences. She made the headlines for marrying her body guard but it took a dark twist once they divorced. According to Im Woo Jae (ex-husband) she has refused him from seeing his own child.
Lee Seo-hyun graduated from Parsons School of Design in New York and leads the operation committee at The Leeum, Samsung Museum of Art. She is the president of Samsung C&T's fashion division and under her supervision the company saw the success of Bean Pole, a "neo traditional" family fashion.
Chung Yong-jin is the Vice Chairman of Shinsegae, a department store franchise. He is an avid social media user and markets his favorite products on his online retails store via his Facebook account.
Chung Yoo-kyung is the President of Shinsegae and her contributions to the fashion unit includes incorporating Shinsegae International which houses luxury global fashion brands. Though due to the current pandemic, her business has seen a plummet in sales.
Lee Yoon-hyung she hung herself in Astor Palace Apartment, Manhattan. Samsung Group had initially covered up the news and reported that she had died in a car crash but the events didn't add up. The suicide was partly due to her father's resolve. He had caused her to break up with her boyfriend, someone who was deemed to be of lower status in his eyes.
4th generation
Lee Sun Ho was under scrutiny in 2019, for possessing liquid marijuana. He was accused of hiding and transporting marijuana cartridge's from US to Korea. He was also tested positive during a drug test.
Source: