Family tree of Jamal Khashoggi
Muhammad Khaled Khashoggi (1889–1978), also spelled as Mohamed Khaled Khashoggi, was a Saudi Arabian medical doctor. He was King Abdulaziz…

---
Family tree of Jamal Khashoggi
Muhammad Khaled Khashoggi (1889–1978), also spelled as Mohamed Khaled Khashoggi, was a Saudi Arabian medical doctor. He was King Abdulaziz Al Saud's personal doctor. He was the grandfather of:
Jamal Ahmad Khashoggi was a Saudi Arabian journalist, dissident, author, columnist for The Washington Post, and a general manager and editor-in-chief of Al-Arab News Channel who was assassinated and dismembered at the Saudi consulate in Istanbul on 2 October 2018 by agents of the Saudi government, most likely at the behest of Crown Prince Mohammed bin Salman, head of Saudi Arabia at the time.
In the 1960s, Adnan Khashoggi married 20-year-old Englishwoman Sandra Daly (m. 1961–1974) who converted to Islam and took the name Soraya Khashoggi. They raised one daughter (Nabila) and four sons together (Mohamed, Khalid, Hussein, and Omar).
Spartan Khashoggi Daggenhurst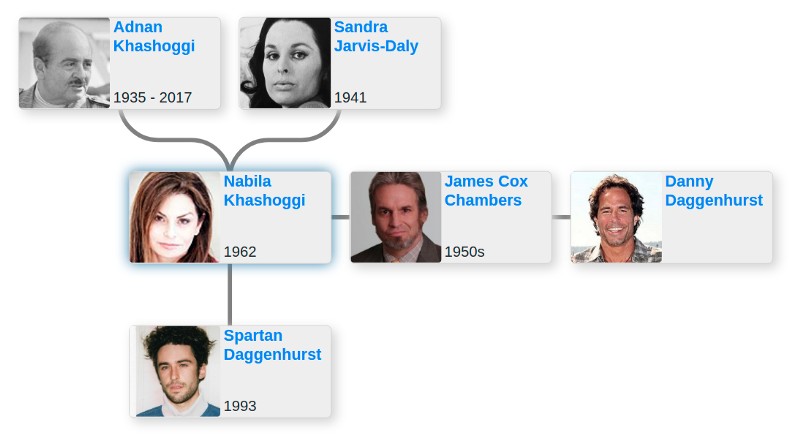 Spartan Daggenhurst (né Athanasios Spartan Talal Kerem Khashoggi Daggenhurst) is an award-winning Anglo-Greek filmmaker, composer, pianist, and poet. He is currently in a relationship with Elisha Herbert.
List of family members:
1. Khalid Ali Khashoggi
└ +Assia Hammad
2. Dr. med. Muhammad Khashoggi b. 1889, Medina, Al Madinah Province, Saudi Arabia; d. 1978, Riyadh, Ar Riyad, Saudi Arabia
└ +Unknown
3. Ahmad Khashoggi
└ +Bashira Mardini b. Damascus, Dimashq, Syria (Syrian Arab Republic); d. Damascus, Dimashq, Syria (Syrian Arab Republic)
3. Faiza Khashoggi
└ +-AbdulJaleel Khashoggi
4. foad Khashoggi
4. Firyal Khashoggi
4. farooq Khashoggi
4. Fayda Khashoggi
4. Fida Khashoggi
└ +Khadija Ismail Al-Tubji
3. Amr Khashoggi b. October 7, 1952, Abha, Saudi Arabia
└ +Rema Khashoggi b. April 27, 1955, Georgetyown, Guyana; m. March 23, 1975, Carson City, Nevada, United States
4. Assia Khashoggi b. April 30, 1979, New Haven, Connecticut, United States
└ +Salman F Alireza b. September 24, 1975; m. June 27, 2008, Athens, Greece
5. Lanah Alireza b. February 24, 2010, Jeddah, Makkah, Saudi Arabia
4. Mohamed 'Mimo' Khashoggi b. November 25, 1980, Basingstoke, Hampshire, United Kingdom
4. Alia 'Lulu' Khashoggi b. January 30, 1985, Riyadh, Ar Riyad, Saudi Arabia
3. Atef Khashoggi
3. Salwa Khashoggi
└ +Omar Khashogji
4. Hala Khashoggi b. September 27, 1979, London, United Kingdom
└ +Khaled Al-Dajani b. United Kingdom; m. April 15, 2005, Jeddah, Saudi Arabia
5. Aya Dajani b. February 18, 2009, Jeddah, Saudi Arabia
4. Basma Khashoggi
4. Hiba Khashoggi
4. Baha'a Khashogji
└ +Zaina Zedan
5. Omar Khashoggi
3. Samia Khashoggi
└ +Saad Ghouth
4. Joumana Ghouth
4. Yusuf Ghouth
4. Hamza Ghouth
3. Amal Khashoggi
└ +-Tariq Abdat
4. Abdullah Abdat
4. Yusuf Abdat
3. Mona Khashoggi
└ +Ahmed Abukhadra
4. Tamara Abukhadra
4. Faisal Abukhadra
4. Majid Abukhadra
3. Walid Khashoggi
└ +-Jamila
4. Dania Khashoggi
└ +Samiha Khashoggi
3. Adnan Khashoggi b. June 25, 1935, Mecca, Makkah Province, Saudi Arabia; d. June 6, 2017, St Thomas' Hospital, London, Greater London, England, United Kingdom
└ +Shahpari Azam Khashoggi
└ +Laura Khashoggi
4. Ali Khashoggi
└ +-Soraya Khashoggi b. 1941
4. Nabila Khashoggi
└ +James Cox Chambers b. 1956
4. Omar Khashoggi
4. Khalid Khashoggi
4. Mohammed Khashoggi
└ +Unknown
5. Hussein Khashoggi
3. Ahmad Khashoggi
└ +Esaaf Khashoggi
4. Jamal Khashoggi b. October 13, 1958, Medina, Al Madinah Province, Saudi Arabia; d. October 2, 2018, Saudi Arabian Embassy, Istanbul, Istanbul, Turkey
└ +-Rawia Khashoggi
5. Salah Khashoggi
5. Abdullah Khashoggi
5. Noha Khashoggi
5. Razan Khashoggi
└ +? Khashoggi
└ +? Khashoggi
└ +Hatice Cengiz
3. Samira Al-Fayed (Khashoggi) b. 1935, Saudi Arabia; d. 1986
└ +-Mohamed Anwar Shaker Abdel Sayed El Fayed b. January 27, 1929, Bacos, Qism El-Raml, Alexandria Governorate, Egypt
4. Dodi Fayed b. April 15, 1955, Alexandria, Alexandria Governorate, Egypt; d. August 31, 1997, Paris, Paris, Île-de-France, France
└ +-Susanne Gregard b. March 30, 1960; m. 1986
└ +Anas Al-Fayed
4. Jumana Yassin
3. Soheir Khashoggi
3. Adil Khashoggi
└ +Unknown
4. Alaa Khashoggi
4. Emad Khashoggi
4. Amer Khashoggi
4. Biba Khashoggi
3. Essam Khashoggi
3. Assia Khashoggi
3. Soheir Khashoggi