Eva Celia is of Dutch-Javanese ancestry. Her father is the jazz musician Indra Lesmana.

---
Eva Celia's family tree
Eva Celia is of Dutch-Javanese ancestry. Her father is the jazz musician Indra Lesmana.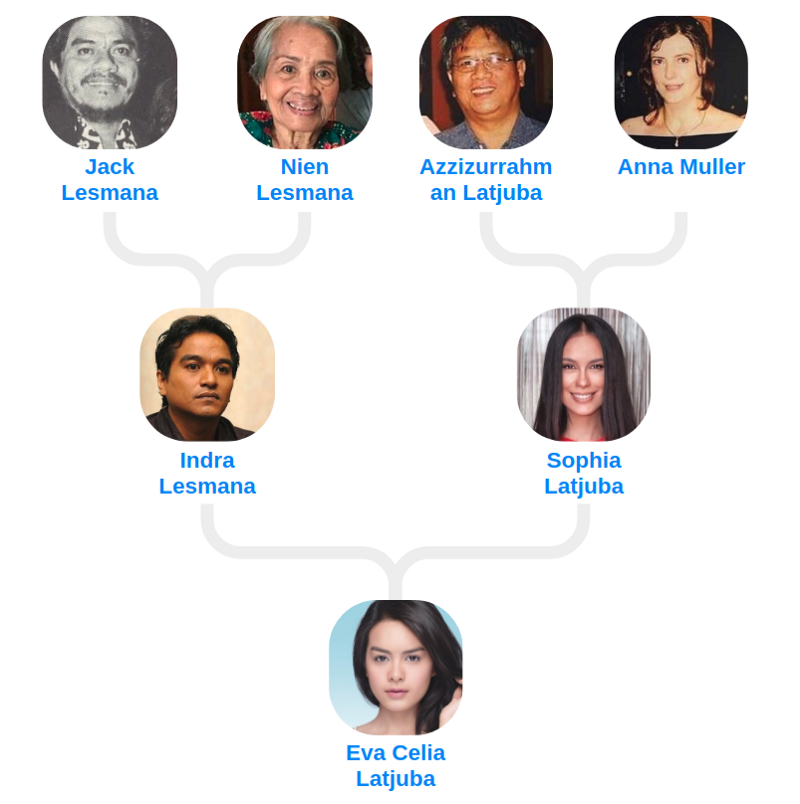 Jack Lesmana is an Indonesian Jazz guitarist. His real name is Jack Lemmers, on behalf of his father's adopted Dutch family. His father is Madura and his mother is a mix of Javanese and Dutch. At the age of 10 Jack was skilled at playing the guitar. Two years later he became acquainted with jazz music when playing in a Dixieland band. Later with Maryono and Bubi Chen, Jack Lesmana founded the Jack Lemmers Quartet, which was later renamed the Jack Lesmana Quintet.
Nien Lesmana is a well-known Indonesian singer from the1960s era, with the song "Menanti di Bawah Pohon Kamboja" (Waiting Under the Cambodian Tree).
Indra Lesmana began playing the piano when he was 9. He moved to California in 1985 to record For Eart and Heaven which entered the Billboard magazine jazz chart. He had a vested interest in audio technology and his album Rumah Ke Tujuh was nominated as the Best Mixing Engineer at AMI Awards 2003. He was one of the judges in the first Asian Idol held in Indonesia.
Sophia Latjuba is half Austrian and Bugis-Javanese. She debuted in her first film when she was high school, Bilur-Bilur Penyesalan (Stripes of Regret) and later appeared in various films, including Kuldesak, directed by her then sister-in-law. She had also released several albums, one which won the 1994 BASF Award for Best Album Arrangement, Hanya Untukmu (Only For You)
Eva Celia Latjuba is an actress, jazz singer-songwriter, guitarist, and lyricist. She debuted in the horror film Takut: Faces of Fear and performed in Jamila and the President (2009), Adriana (2013) and The Golden Cane Warrior (2014). She also produced a short filmed titled Biang. She released her first singles, Reason and Against Time in 2015 and was nominated for "Best Female Soul/R & B /Urban Solo Singer" in the Indonesian Music Awards in 2016. And in 2017, she received nominations for Album of the Year and Female Singer of the Year at the Indonesian Choice Awards,
His father has two sisters:
Mira Lesmana is an Indonesia film director, producer and songwriter. Her well known works include
is an Indonesian film director, producer and songwriter. She is best known as the founder of Miles Films, previously Miles Productions, which she co-manages with Indonesian filmmaker Riri Riza.[1] Through Miles Films, she has produced several critically and commercially successful films, including Petualangan Sherina (Sherina's Adventure; 2000), Ada Apa dengan Cinta? (What's Up with Love?; 2002), Gie (2005), and Laskar Pelangi (The Rainbow Troops; 2008).
Mathias Muchus is a seasoned Indonesia actor and has won several awards and been nominated many times as the best actor in the Indonesian Film Festival. In addition to being famous for his role as Tarjo in the soap opera "Losmen" on TVRI in the 1980s, he won the "Piala Imej" at the Indonesian Film Festival in 1988 as
the best actor in the film "Istana Kecantikan" (Beautiful Palace).
Source: