Bill Gates, mostly known for founding Microsoft. He has three sisters and three children.
---
Bill Gates' family tree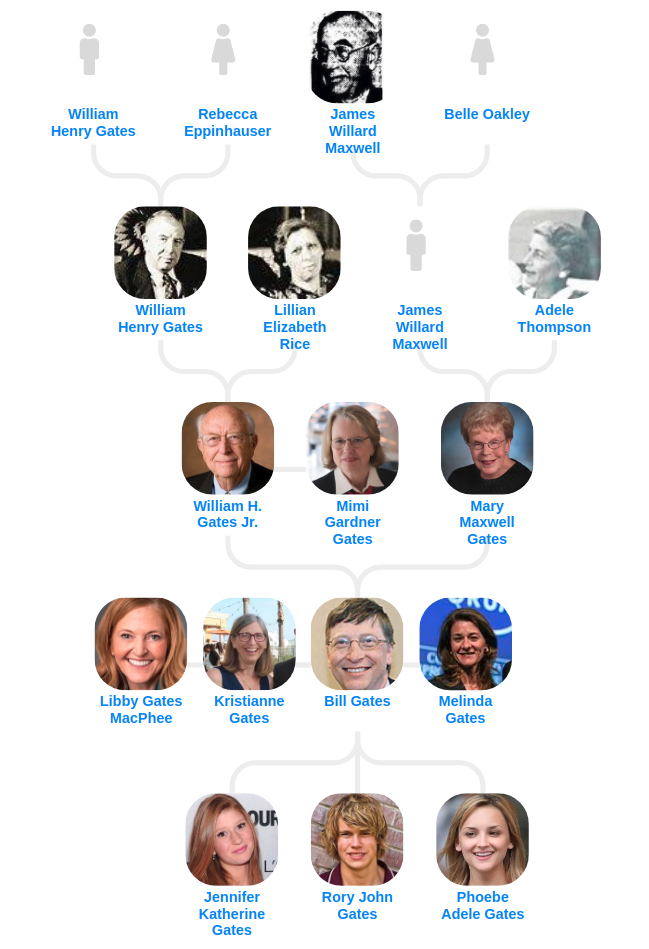 See the full tree on EntiTree:
William Henry Gates II also known as Bill Gates Sr. co-founded the law firm, Shidler McBroom & Gates, in 1964 and served as a board member for Greater Seattle Chamber of Commerce, King County United Way, and Planned Parenthood. He also sat as the co-chair for Bill and Melinda Gates Foundation. He passed away at the age of 94 and Bill once wrote: "The next time someone asks you if you're the real Bill Gates, tell them you're all the things the other one strives to be."
Mary Maxwell Gates started working as a teacher and served on the boards of trustees of Children's Orthopedic Hospital in Seattle. She persuaded officials to work on children and the hospital thus forming the Children's Hospital Foundation. She played a titular role that got Bill Gate the deal with International Business Machines Corporation in 1980.
Bill Gates, took a one-year break from his studies and became the founded Microsoft alongside Paul Allen. During a Q&A with Harvard students, Bill told them that he struggled with self-esteem and feared his business would face bankruptcy. Currently, there are conspiracy theories circulating around social media that Bill Gates is responsible for the coronavirus situation though he has spent years warning the public of a possible pandemic and how the world would be ill-equipped to handle it.
Melinda Gates was the Marketing Manager of Microsoft and managed various multimedia projects during her tenures such as Microsoft Bob, Work, Encarta, Publisher, and Microsoft Works. She left her job in 1996 to focus on starting a family and co-founded the Bill and Melinda Gates Foundation and founded Pivotal Venture. She is passionate about philanthropy works and ranked as the world's most powerful woman by Forbes. Read more:
Kristianne Gates (born January 22, 1954) is a Certified Public Accountant that specializes in personal finance and tax planning. Currently a director of several companies including Avista, Advantage IQ, and Laird Norton Tyee. She is married to John Blake and has two children: Kerry Blake & Sully Blake.
Libby G. MacPhee is the Managing Partner of Seattle Family Support, LLC. She also serves as the directing board under Seattle Children's Hospital, the Make-A-Wish Foundation, and Seattle Foundation. She is married to Doug Armintrout, and has three children all born in Seattle, Washington:
Emmy Armintrout 1991
Steve Armintrout 1994
Mary Armintrout 1996
2nd Generation
Jennifer Katharine Gates is an avid equestrian and engaged with Nayel Nassar, a professional equestrian himself. She graduated from Stafford University with a degree in human biology and is currently attending medical school in New York City.
Rory John Gates earned his degree in Computer Software Engineering and Economics in Education at Duke University.
Here's a more compact version
Bill Gates ancestors list:
1. Rory John Gates b. 1999
 2. Bill Gates b. October 2
8, 1955, Seattle, Washington
  3. William H. Gates, Sr. b. November 30, 1925, Bremerton, WA; d. September 14, 2020, Hood Canal, WA
   4. William Henry Gates, Sr. b. March 14, 1891, Seattle, King County, Washington; d. August 17, 1969, Bremerton, Kitsap County, Washington
    5. William Henry Gates b. January 22, 1860, Warrington Township, Bucks County, Pennsylvania; d. April 30, 1926, Seattle, King County, Washington
     6. Joseph Stanton Gates b. circa 1806, West Greenwich, Kent County, Rhode Island; d. January 5, 1863
      7. Israel Gates b. 1764, West Greenwich, Kings County, Colony of Rhode Island and Providence Plantations; d. 1812
       8. Ensign Simon Gates b. September 15, 1724, Preston, New London County, Connecticut Colony; d. 1774, West Greenwich, Kent County, Colony of Rhode Island and Providence Plantations
        9. Caleb Gates b. 1693, Stow, Middlesex County, Province of Massachusetts; d. September 23, 1774, Preston, New London County, Connecticut Colony
         10. Thomas Gates b. May 3, 1646, Hingham, Suffolk County (Present Plymouth County), Massachusetts Bay Colony; d. August 10, 1726, Preston, New London County, Province of Connecticut
         10. Elizabeth Susan Gates (Freeman) b. June 23, 1648, Sudbury, Middlesex County, Massachusetts Bay Colony; d. circa July 10, 1723, Norwich, New London County, Province of Connecticut
        9. Mary Gates b. 1694, Stow, Middlesex County, Province of Massachusetts; d. September 2, 1774, Preston, New London County, Connecticut Colony
         10. Deacon Caleb Forbes b. 1656, Bridgewater, Plymouth Colony; d. August 25, 1710, Preston, New London County, Connecticut Colony
         10. Sarah Forbes b. February 1, 1651, New London, Connecticut; d. 1713, Norwich, New London County, Connecticut
       8. Prudence Gates b. 1731
      7. Ruth Eunice Gates b. September 18, 1768, Groton, New London County, Connecticut Colony
       8. John Gates b. December 13, 1745, Groton, New London County, Connecticut Colony; d. November 10, 1826, Brandford, New Haven County, Connecticut
        9. Zebediah Gates b. September 4, 1699, Preston, New London County, Connecticut Colony; d. February 12, 1759, Present, New London County, Connecticut Colony
         10. Thomas Gates b. December 31, 1669, Boston, Suffolk County, Massachusetts Bay Colony; d. August 20, 1751, Preston, New London County, Connecticut Colony
         10. Margaret Gates b. February 2, 1669, Preston, New London County, Connecticut, USA; d. circa December 1685, Preston, New London County, Connecticut, USA
        9. Sarah Gates b. after 1722, Groton, New London County, Connecticut Colony; d. 1798
       8. Sarah Gates b. November 23, 1750
     6. Martha P. Gates b. May 10, 1823, Schuyler County, New York; d. 1905
      7. Ephraim Satterlee b. May 12, 1786, Connecticut; d. January 10, 1868, Delmar, Tioga County, Pennsylvania
       8. Selah Satterlee
        9. Nathaniel Satterly b. 1735; d. 1759
         10. John Satterly b. 1712; d. 1749
         10. Mary Satterly b. 1710, Huntington, Suffolk County, Province of New York
        9. Elizabeth Satterly
      7. Christiana Keziah Satterlee b. November 10, 1794, Newtown, Chemung County, New York; d. July 21, 1874, Wellsboro, Tioga County, Pennsylvania
       8. Nathaniel Seely, Jr. b. 1757, Cornwall, Orange County, Province of New York; d. 1796, Oxford, Chenango County, New York
        9. Nathaniel Seely, Sr. b. October 11, 1732, New Canaan, Fairfield County, Connecticut Colony; d. October 31, 1799, Southport, Chemung County, New York
         10. Ebenezer Seely b. January 18, 1697, Stamford, Fairfield County, Connecticut Colony; d. March 7, 1767, Goshen, Orange County, Province of New York
         10. Mercy Seely b. January 30, 1698, Stamford, Fairfield County, Connecticut Colony; d. 1744, New Canaan, Fairfield County, Connecticut Colony
        9. Jemima Seely b. 1736, Cornwall, Orange County, Province of New York; d. 1770, Southport, Chemung County, Province of New York
         10. Abraham Collins b. 1698; d. 1756
         10. Sarah Elizabeth Collins b. circa 1705; d. 1770
       8. Elizabeth Seely b. circa 1760; d. 1806, Elmira, Chemung County, New York
    5. Rebecca Gates b. October 1869, Norddeutscher Bund; d. circa 1920
     6. Mr. Eppinhauser
     6. Mrs. Eppinhauser
   4. Lillian Elizabeth Gates b. April 23, 1891, Bremerton, Kitsap County, Washington; d. November 27, 1966, Bremerton, Kitsap County, Washington
    5. William Hooker Rice b. January 1863, Pennsylvania; d. 1933
     6. Charles Rice b. 1833, Vermont
      7. Julius Hopkins Rice b. March 8, 1794; d. March 11, 1861
       8. Seth Rice b. February 22, 1775, Guilford, Windham County, Vermont
        9. Seth Rice b. April 24, 1748, Worcester, Worcester County, Massachusetts
         10. Adonijah Rice b. November 7, 1714, Worcester, Worcester County, Massachusetts; d. January 20, 1802, Bridport, Vermont
         10. Persis Rice (Gates) b. August 1, 1719, Charlestown, MA; d. June 6, 1760, Worcester, Worcester County, Massachusetts, USA
        9. Sarah Rice (Lynde) d. November 15, 1812, Guilford, Windham County, Vermont
       8. NN Rice
      7. Rowena Rice b. November 23, 1797, Moreau, Saratoga, New York; d. June 29, 1876, Glens Falls, Warren, New York
     6. Sarah Rice b. February 11, 1835, Wycombe, South East, England, United Kingdom; d. October 3, 1890
      7. William Hooker b. April 10, 1794
      7. Charlotte Hooker b. October 14, 1794
    5. Isabella Rice b. January 2, 1871, Stalmine, Lancashire, England, United Kingdom; d. May 4, 1948, Seattle, King County, Washington
     6. John Sanderson b. September 12, 1846
      7. Robert Sanderson b. 1810; d. 1877
      7. Thomasine Sanderson b. March 12, 1810; d. 1890
       8. Thomas Cardwell b. 1783; d. 1810
        9. John Cardwell b. 1757
       8. Isabel Cardwell b. 1779; d. 1866
     6. Elizabeth Sanderson b. December 1850, Singleton, Lancashire, England, United Kingdom; d. 1929, Seattle, King County, Washington
      7. Joshua Porter b. 1817, Poulton-le-Fylde, Lancashire, England, United Kingdom; d. September 26, 1893, Singleton, Lancashire, England, United Kingdom
       8. Robert Porter
       8. Ellen Porter
      7. Mary Porter b. 1815, Singleton, Lancashire, England, United Kingdom
       8. William Foster
  3. Mary Gates b. July 25, 1929, Seattle, King County, Washington; d. June 10, 1994, Her home, Seattle, King County, Washington
   4. James Willard Maxwell, Jr. b. February 27, 1901, Lincoln, Lancaster County, Nebraska; d. August 30, 1960, Seattle, King County, Washington
    5. James Willard Maxwell, Sr. b. September 8, 1864, Iowa; d. April 2, 1951, Seattle, King, Washington
     6. Thomas George Maxwell b. 1836, Massachusetts; d. 1917, California
     6. Louise Maria Maxwell b. September 28, 1842, Hopewell,NY; d. 1901, NE
      7. Harvey Woodworth b. April 18, 1814, Fenner,Madison,NY
       8. Luther Woodworth b. 1780, Fenner, Madison, NY; d. January 18, 1836, Fenner, Madison Co., NY
        9. Joseph Woodworth b. May 29, 1757, Lebanon, New London County, Connecticut; d. May 12, 1842, DAR shows death on this date, grave stone shows May 21., Conewango, Cattaraugus County, New York
         10. Lemuel Woodworth b. June 25, 1735, Lebanon, New London County, Connecticut; d. August 15, 1804, Fenner, Madison County, New York
         10. Elizabeth Woodworth b. January 22, 1740, Norwich, New London County, Connecticut; d. November 27, 1794, Fenner, Madison County, New York
        9. Sarah Sally Woodworth b. 1757; d. 1800
       8. Nancy Couse
      7. Emeline (Emily) Keeler Woodworth b. March 3, 1821, Spencertown, NY; d. 1901
       8. George Phillips Brush b. August 31, 1775, Huntington Station, Suffolk County, New York; d. September 6, 1829, North Salem, Westchester County, New York
        9. Daniel Brush b. October 5, 1744; d. August 23, 1805
         10. Jonathan Brush b. circa 1715, Huntington, Suffolk Co., NY; d. October 10, 1787
         10. Elizabeth Brush b. September 27, 1718; d. November 4, 1796
        9. Hannah Brush b. July 28, 1756; d. circa 1834
         10. George Phillips, Jr. b. April 1, 1698, Smithtown, Suffolk County, New York; d. November 21, 1771, Smithtown, Suffolk County, New York
         10. Elizabeth Mills b. August 16, 1705, Mills Pond, Suffolk, New York, USA; d. April 19, 1775, Smithtown, Suffolk, New York, USA
       8. Polly Brush b. March 12, 1780, Salem, Washington County, New York; d. circa 1865, Nelson, Madison County, New York
        9. Pvt. Jeremiah Keeler, Rev. War Vet. b. 1754, Salem, Washington County, New York; d. May 5, 1812, Salem, Washington County, New York
         10. Jonah Keeler, Jr. b. September 17, 1714, Ridgefield, Fairfield County, Connecticut; d. 1799
         10. Mary Keeler b. circa 1718, Salem,Westchester,NY
        9. Lydia Keeler b. November 4, 1751, Ridgefield, Fairfield County, Connecticut; d. September 23, 1832, North Salem, Westchester County, New York
         10. Silas Keeler b. December 3, 1724, Ridgefield, Fairfield Co., CT; d. May 2, 1774, Ridgefield, Fairfield, Connecticut
         10. Abigail Keeler b. between 1722 and 1723, Wilton, Fairfield County, Connecticut; d. 1789, North Salem, Westchester Co., NY
    5. Belle Maxwell b. April 1872, Dunkirk, NY; d. August 18, 1945, Seattle,WA
     6. Oscar Rodman Oakley b. January 1838, New York; d. June 21, 1923, Seattle, King, Washington
      7. Gabriel Linch Oakley b. 1809; d. 1884
      7. Delia Jane Oakley b. November 18, 1810, Roxbury, Delaware, New York; d. October 4, 1881, Marathon, Cortland, New York
       8. Chauncey Tupper b. 1779; d. 1856
        9. Thomas Tupper, Jr. b. November 16, 1747, Salisbury, Litchfield, CT; d. November 12, 1817, Salisbury, Litchfield, CT
         10. Thomas Tupper, Sr. b. November 21, 1719, Sandwich, Barnstable, Massachusetts; d. May 13, 1761, Salisbury, Litchfield, Connecticut, USA
         10. Ruth Owen b. circa 1717, Lebanon, New London, Connecticut,; d. 1769
        9. Parthena Tupper b. 1747, Salisbury, Litchfield, CT; d. April 16, 1834, Salisbury, Litchfield, CT
         10. Aaron Jaqua
         10. Rebecca Jaqua
       8. Delia Tupper b. 1784; d. 1862
        9. Sylvanus Gibbs b. February 16, 1754, Sharon, Litchfield County, Connecticut; d. June 19, 1834, Sharon, Litchfield County, Connecticut
        9. Betsy Gibbs b. 1755; d. 1837
         10. David E
lmer b. 1725; d. 1780
         10. Jemima Elmore b. February 22, 1730, Hebron, Tolland, Colony of Connecticut, British Colonial America, Sharon, New Haven County, Connecticut Colony; d. December 11, 1784, Sharon, Litchfield County, Connecticut
     6. Isabella A. Oakley b. August 1845, New York; d. 1920
   4. Adelle Maxwell b. December 1, 1903, Enumclaw, King County, Washington; d. October 30, 1987, Seattle, WA
    5. William James Thompson b. May 25, 1869, Station Approach, Bridgend, Wales, United Kingdom; d. October 17, 1935, Enumclaw, King, Washington
     6. Barker Lovell Thompson b. April 14, 1820, Cayuga County, New York; d. 1870
     6. Caroline M Thompson
    5. Ida Thompson b. October 4, 1881, Montesano, Grays Harbor, Washington; d. September 7, 1961, Seattle, King, Washington
     6. John Theophilus Medcalf b. May 31, 1843, Montreal, Quebec, Canada; d. May 23, 1899, Washington
      7. William Medcalf b. March 10, 1813, Delgany, County Wicklow, Ireland; d. November 10, 1893, Montesano, Grays Harbor County, Washington
       8. William Medcalf b. September 1773, Wicklow, Ireland; d. June 22, 1851, Elgin, Canada
       8. Martha Medcalf b. September 1772, Wicklow, Ireland; d. January 12, 1861, Elgin, Ontario, Canada
        9. George Poole
      7. Martha Ann Medcalf b. February 28, 1814, Ashton-under-Lyne, Lancashire, England (United Kingdom); d. October 23, 1880, Montesano, Grays Harbor, Washington
       8. William Binns b. March 10, 1789, Dukinfield, Ceshire, England (United Kingdom); d. 1848, Canada
        9. John Binns b. circa February 3, 1760, Sherburn in Elmet, Yorkshire, England (United Kingdom); d. January 1841, York, Yorkshire, England (United Kingdom)
         10. Joseph Binns
         10. Catherine Binns
        9. Sarah Binns b. March 24, 1770, Thorganby, Yorkshire, England (United Kingdom); d. September 21, 1830, Escrick, Yorkshire, England (United Kingdom)
         10. William Savage
         10. Fiby Savage
       8. Elizabeth Binns b. October 24, 1788, Halton, Cheshire, England (United Kingdom); d. 1843, Canada
        9. John Buckley
        9. Elizabeth Buckley
     6. Susan Elizabeth Medcalf b. September 10, 1858, Monroe, Missouri; d. June 25, 1893, Montesano, Grays Harbor, Washington
      7. Thomas N. Ried b. 1824, Kentucky; d. 1865, Cedarville, Whatcom County, Washington
      7. Mary Willet Ried Newman b. May 2, 1836, Nelson County, Kentucky; d. January 16, 1931, Tonasket, Okanogan County, Washington
       8. Richard B Willett b. circa 1806, Nelson County, Kentucky; d. 1880
        9. Thomas Willett b. 1773, Prince George's County, Maryland; d. 1838, Nelson County, Kentucky
         10. William Willett, II b. 1743, Prince George County, Maryland, Colonial America; d. between March 20, 1814 and April 18, 1814, Nelson County, Kentucky
         10. Mary Simmons b. 1753, Landover, Prince George, Maryland; d. December 5, 1788, Nelson, Kentucky
        9. Sarah Willett b. 1783, Nelson County, Kentucky; d. between 1807 and 1824
         10. William Bryan d. between 1783 and 1804
         10. Ann Bryan
       8. Susan Willett b. 1804, Prince George's County, Maryland; d. 1882
        9. James Thomas b. circa 1783; d. circa 1804
        9. Ann Thomas b. 1768, Prince George's County, Maryland; d. May 24, 1858, Hancock County, Kentucky
         10. William Willett, II b. 1743, Prince George County, Maryland, Colonial America; d. between March 20, 1814 and April 18, 1814, Nelson County, Kentucky
         10. Ann Wheat b. circa 1744, Wales, United Kingdom; d. circa November 1770, Prince George's Co., Maryland
 2. Melinda Ann Gates b. August 15, 1964, Dallas, TX
  3. Raymond Joseph French, Jr.
  3. Elaine French
   4. George Albert Amerland
    5. John George Amerland
     6. Henry Dietrich Amerland
     6. Anna Maria Amerland
    5. Gesina Frederica Amerland b. August 31, 1881; d. May 21, 1960
     6. Charlotte Becker
   4. Mary Agnes Amerland
Source: