Aurel marries Atta Halilintar, Indonesian Youtube star
Halilintar Anofial Asmid and Lenggogeni Faruk have 11 chil

---
Aurel marries Atta Halilintar, Indonesian Youtube star
Atta Halilintar married Aurel Hermansyah today (April 3, 2021) in an extravagant wedding ceremony and reception.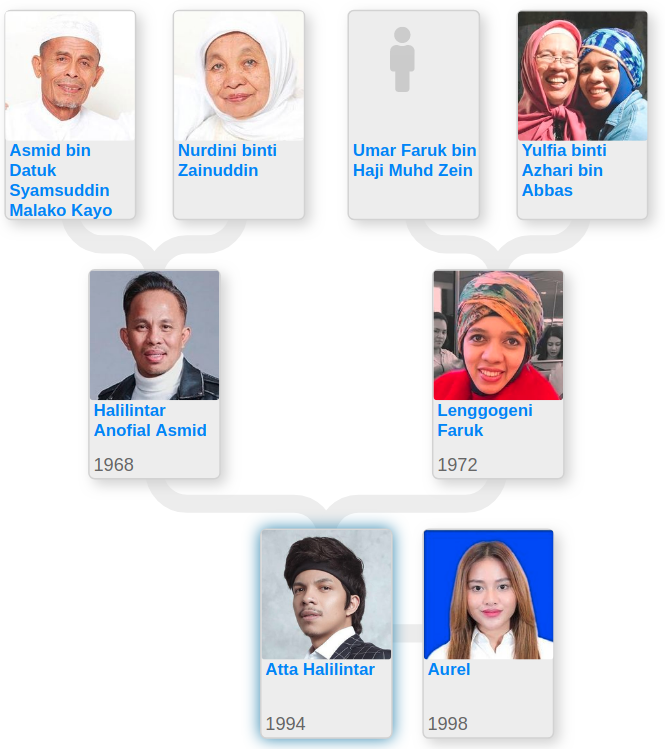 Atta Halilintar is an Indonesian YouTube superstar with the highest subscribers in Southeast Asia. Born as the first son of 11 siblings, his family is famous for their experience in traveling around the world with 11 children without any domestic helper.
Aurel Hermansyah is the daughter of Anang Hermansyah and Krisdayanti, both are famous Indonesian singers during the 1990s. Her parents got divorced in 2009, and both remarried another person. From her parents' multi-marriages, she has 1 brother and 4 half-siblings.
---
Halilintar Anofial Asmid and Lenggogeni Faruk have 11 children:
Atta Halilintar
Sohwa Mutamimah Halilintar
Sajidah Mutamimah Halilintar
Muhammad Thariq Halilintar
Abqariyyah Mutammimah Halilintar
Muhammad Saaih Halilintar 
Siti Fatimah Halilintar 
Muhammad Al Fateh Halilintar
Muhammad Muntazar Halilintar
Siti Saleha Halilintar 
Muhammad Shalaheddien El-Qahtan Halilintar
Anang Hermansyah has four children:
Marriage with Krisdayanti :
Marriage with Ashanty :